On the first Sunday morning in January 1948, twenty persons of Supply, North Carolina,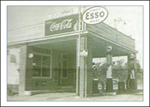 community assembled in the vacant store building of J.J. Hawes located at the intersection of N.C. Highway 211 and Blanton Road and organized a Sunday School with J.J. Hawes as Director.
On March 21, 1948, Supply Baptist Church was organized with nineteen charter members which included Mrs. Lucy Lennon, Mr. & Mrs. Frank Lennon, Clarence Lennon, Mrs. Lucy Margaret Banks, Mr. & Mrs. J.J. Hawes, Miss Mildred Hawes, Mrs. Doris Thompson, Mr. & Mrs. Carl Hewett, Mrs. Natalie Nichols, Mr. & Mrs. Dennis Hewitt, Mr. & Mrs. Vinton Galloway, V.E.., Ruth and Richmond Galloway.
On December 12, 1948, the new church extended a call to the Reverend Carl Talley to become its first pastor.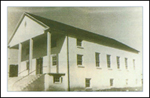 Soon thereafter, excavation was started for the construction of a cinder block building with a basement. Mr. Lennell Hewett was employed to work and supervise the construction of the building. By the summer of 1950, the building was ready for use.
The ground breaking for the parsonage was held November 11, 1956, and construction was completed in 1957. A dedication service for both church and parsonage was held on August 11, 1957.
The church felt a need to build a sanctuary on level ground. A committee studied the possibilities of remodeling the block building then in use. Finally, the members decided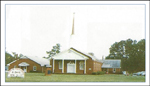 to erect a new one-story church, construction to be under the supervision of Walter Sellers. The ground breaking was on November 30, 1969. The dedication of the church followed during the first Homecoming Service on August 29, 1971.
Supply Baptist Church licensed two men to preach the gospel: Elwood Gore and Dennis R. Hewett.
In 1990, the church built a covered driveway and installed a chain link fence in front of the church and pastorium.
From a charter membership of 19 in 1948, the church has grown to 308 members at the end of the 1990-91 Associational year. During the year, the Rev. Tom H. Williams, now more than 90 years of age, was named Pastor Emeritus
Ruth Galloway (Deceased)
Former Charter Member